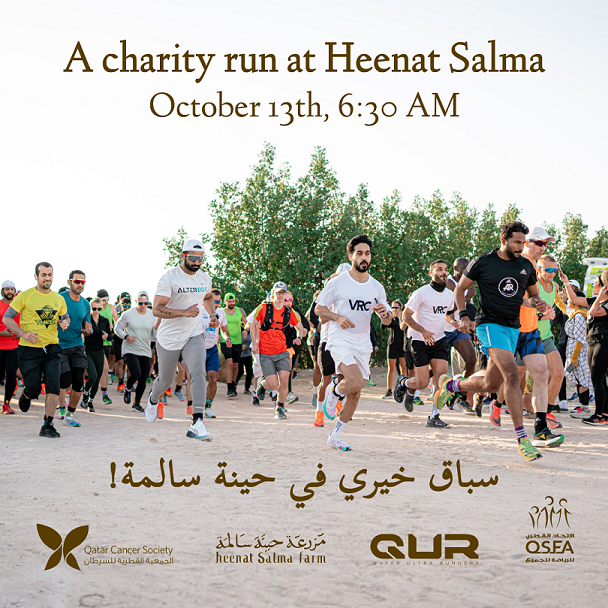 Qatar Ultra Runners Presents:
The Cancer Awareness Run!
At Heenat Salama
October 13, 2023

Mark your calendars for a meaningful event on Friday, October 13th, as Qatar Ultra Runners teams up with Heenat Salma, Qatar Sports For All and Qatar Cancer Society to bring you a race that's not just about miles, but about making a difference!
We invite friends from our local community to participate, providing a wonderful opportunity for us to meet, enjoy refreshing physical activity in nature, and offer support to the Qatar Cancer Society simultaneously.
A scenic race course.
A sense of community.
Opportunities to contribute to a noble cause.
Let's run for a cause, unite against cancer, and make a lasting impact! Together, we can create awareness and inspire hope.
Event Distances: 2.5 km - 5 km
Date: October 13th, 2023
Race start: 6:30 AM
Venue: Heenat Salma Farm (HSF)

Join us in our mission to raise cancer awareness. Lace-up your running shoes and be part of the change!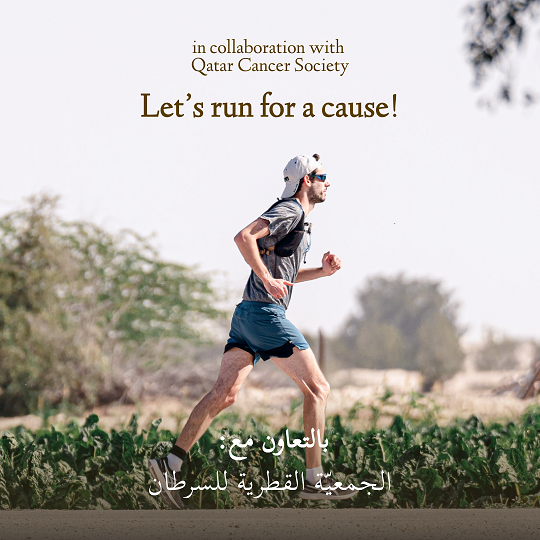 Cancer Awareness Run 2023
Date: Friday, Oct 13, 2023
Event Schedule:
| | |
| --- | --- |
| Time: | Event: |
| 06:00 AM | Registration Opens |
| 07:30 AM | Race start (Main event) |
| 09:00 AM | Race ends (Main event) |
| 09:15 AM | Prize ceremony |
| 09:35 AM | Refreshments |
| 10:00 AM | Lecture (Weill Cornel Medicine Qatar) |
| 10:30 AM | Event ends |
2.5KM Race
All races (female)

Pos
Athlete
Bib#
Total Time
Overall
1
Claire Lange
207
0:15:26
2
2
Lolwa Almarri
135
0:16:12
6
3
Kholoud Aqeel
218
0:17:03
10
4
Noora Al-Saeed
226
0:17:27
11
5
Aisha Soltan
211
0:19:51
12
6
Vera Pavlova
236
0:20:00
13
7
Dalal Hussain
208
0:20:02
14
8
Dalal Hussain (MissingName)
209
0:20:02
15
9
Honida Mahmoud
103
0:20:12
16
10
Wala Amer
237
0:20:51
17
11
Rania Abdeen
230
0:22:38
19
12
Asma Alnassr
215
0:22:55
20
13
Noora Sarah
225
0:23:00
21
14
Farhana Afreen
216
0:23:21
22
15
Dana Althani
210
0:23:35
23
16
Alaa Ismail
200
0:25:41
24
17
Haya Alkaabi
101
0:26:29
25
18
Hassina Aktar
224
0:27:51
26
19
Haya Al kubaisi
238
0:28:05
27
20
Sara AlNaama (Missing Name)
233
0:28:17
28
21
Aisha AlZiara
220
0:29:59
30
22
Aljazi AlMarri
205
0:32:06
31
23
Sara AlNaama
232
33
All races (male)

Pos
Athlete
Bib#
Total Time
Overall
1
Saeed Kaddoura
231
0:12:44
1
2
Mohamed MustafaShaikh
223
0:15:55
3
3
Khalid Alansari
222
0:16:09
4
4
Sayyar AlTamimi
219
0:16:12
5
5
Mohamed Darwish
204
0:16:32
7
6
AlHassan Darwish
203
0:16:32
8
7
Ali Darwish
202
0:16:32
9
8
Gurvinder Singh
217
0:21:59
18
9
Syaidatul Abjalal
235
0:28:22
29
10
Yussef AlZiara
221
0:32:22
32
11
Ali Saqil
234
34
5KM Race
All races (female)

Pos
Athlete
Bib#
Lap1
Total Time
Overall
1
Gwendolyn Shafer
163
0:14:23
0:29:59
14
2
Noof Alahmed
148
0:15:44
0:30:11
15
3
Anna Shapa
113
0:15:06
0:30:27
16
4
Amra Ikanovic
111
0:15:34
0:30:33
17
5
Vitalina LASTNAME
114
0:15:35
0:30:33
18
6
Samira Miri
126
0:16:06
0:30:57
20
7
Anastasiya Goryunova
112
0:16:16
0:33:48
23
8
Mariem Almaaadead
228
0:22:49
0:33:51
24
9
Alaa Nayef
110
0:17:16
0:34:02
26
10
Danila Ciatej
133
0:17:26
0:34:53
30
11
Salma Joundi
152
0:17:25
0:34:56
31
12
Noora Almaaadead
227
0:26:01
0:35:14
32
13
Salha Alshahwani
151
0:18:21
0:35:20
33
14
Dounia Sebouai (Missing)
123
0:16:53
0:35:54
34
15
Malak Hayek
141
0:17:14
0:35:59
36
16
Biha Rouine
117
0:18:12
0:36:52
39
17
Sumeja Zahirovic
158
0:18:32
0:36:52
40
18
Raneem Hanbali
149
0:19:40
0:38:07
41
19
Olfa Khenissi
229
0:19:20
0:38:45
42
20
Sheryl Bozoki
155
0:19:02
0:39:41
44
21
Althia Mallaiaos
121
0:26:41
0:40:14
46
22
Jane Doe
131
0:20:24
0:42:07
51
23
Malak AlKuwari
128
0:20:47
0:43:54
53
24
Aicha Al-Nassr
239
0:21:26
0:43:56
54
25
Shaika Nasser
212
0:21:28
0:43:57
55
26
Adla Kurdi
142
0:19:28
0:44:19
56
27
Fatima Tayeb
125
0:20:47
0:44:27
59
28
DIala Lopez
120
0:21:15
0:44:45
61
29
Alshaima Alshaikh
109
0:21:05
0:44:48
65
30
Maryam Sadighi
157
0:24:17
0:49:35
66
31
Safa Tounsi
150
0:26:59
0:50:57
68
32
Aisha RASOOL
106
0:29:55
0:52:47
70
33
Dounia Sebouai
122
0:22:03
71
All races (male)

Pos
Athlete
Bib#
Lap1
Total Time
Overall
1
Abdulla Almenhali
206
0:12:18
0:23:39
1
2
Antonio Henrique
115
0:12:29
0:24:39
2
3
Hasan Saiqal
129
0:13:13
0:24:40
3
4
Hamad Rashed
130
0:13:04
0:25:11
4
5
Omar Bilal
107
0:13:51
0:26:29
5
6
Ali Alhababi
108
0:14:29
0:27:54
6
7
Fahad Alnaimi
124
0:14:01
0:28:05
7
8
Waleed Kassab
162
0:14:06
0:28:15
8
9
Hesham Elkhatib
132
0:14:16
0:28:32
9
10
Vineeth Unnithan
139
0:14:12
0:28:36
10
11
Khalid Almenhali
201
0:14:02
0:28:54
11
12
Mazen Chedid
214
0:13:58
0:28:58
12
13
Abdulaziz Alemadi
100
0:14:52
0:29:58
13
14
Hasan AlSahli
127
0:15:28
0:30:56
19
15
Bisher AlHomsi
118
0:15:21
0:32:44
21
16
Sathish Kumar
153
0:15:45
0:33:18
22
17
Thiraviya Anistan
161
0:16:02
0:33:51
25
18
Joginder Bhachu
137
0:17:36
0:34:15
27
19
Khaled ansari
134
0:16:36
0:34:34
28
20
Yeasin Khondakar
164
0:15:25
0:34:43
29
21
Abdulla Albakri
102
0:17:33
0:35:59
35
22
Nikhil Korgaokar
143
0:19:31
0:36:21
37
23
Mohamed Alhitmi
136
0:19:08
0:36:39
38
24
Shahin SJ
154
0:19:26
0:39:28
43
25
Limo
156
0:24:55
0:40:08
45
26
Shaun Reay
144
0:19:42
0:40:24
47
27
Rajakumar Ayyar
160
0:25:01
0:41:10
48
28
Nasib Khateb
140
0:20:00
0:41:21
49
29
Tarek Alolabi
159
0:20:25
0:41:46
50
30
AtifSafder Ahmed
116
0:20:09
0:43:20
52
31
Naser Almohndi
105
0:23:01
0:44:30
57
32
Carlos Lopez
119
0:21:15
0:44:45
58
33
Abdulla Kamal
213
0:16:12
0:44:46
60
34
Mohamed Althani
138
0:19:47
0:45:45
62
35
Haris T
147
0:21:55
0:45:54
63
36
Abdelrahman Mahmoud
104
0:24:38
0:48:34
64
37
Mayur Pahadi
145
0:23:37
0:52:26
67
38
Sachin Jambhule
146
0:24:33
0:53:36
69